Challenges, achievements and goals
Sustainability Report 2021
Welcome to our 2021 sustainability report.
In everything we do, we try to go beyond the surface. Sustainability, which is one of the three core values ​​of Freshlabels, is no exception. See where we have moved in sustainability and accountability in 2021 and what challenges we have set for 2022.
2015
Sustainability becomes one of the pillars of Freshlabels.
|
2016
We introduce the first version of our product sustainability assessment.
|
2017
We sign the PET Free Pledge and give up bottled water for good.
|
2018
We replace the plastic bubble wrap with shredded cardboard boxes.
|
2019
We present sustainability at Designblok Prague
and create our first upcycled collection FL C 01.
|
2020
We open the Freshlabels Sustainable Store with a purely sustainable offer, we implement a completely new and complex sustainability evaluation system, we fully launch parcel delivery in reused packaging, and we publish a sustainable glossary and material guide.

Warning: Invalid argument supplied for foreach() in /home/forge/discovermag.freshlabels.cz/wp-content/themes/freshlabels/template-parts/post/image_list.php on line 22

1. A more sustainable offer
We believe that the basic conditions for responsibly manufactured products are lasting quality and timeless design. And that's what an effective fight against fast fashion and the problems it brings, is about. Freshlabels was created in 2006  with such a philosophy which we stand behind to this day. However, there are brands that have decided to do more for a better future for our planet. And those are exactly the ones we at Freshlabels give an even stronger voice to.
Each brand approaches sustainability and responsibility in its own way. Therefore, we evaluate the degree of sustainability of brands based on information obtained from our own comprehensive questionnaire, which we send to all brands. For each product on our website, you can learn not only how a brand stands, but also get specific information about individual aspects of the product life cycle. We also state if the brand has not yet responded to our questionnaire.
Learn more about our criteria and how we evaluate them here.

42 truly sustainable brands
Our brand portfolio currently includes 42 brands (whose products we have in stock) that have been awarded our Sustainable Tag, which means they've met more than half of the evaluation criteria. And we already have a lot more future candidates. So that we can dress you sustainably from head to toe. At the same time, we evaluate existing brands on an ongoing basis, so some may gain our tag and some may lose it.
Categories and number of active brands divided based on the degree of sustainability (the two top ones are also awarded our Sustainable Tag):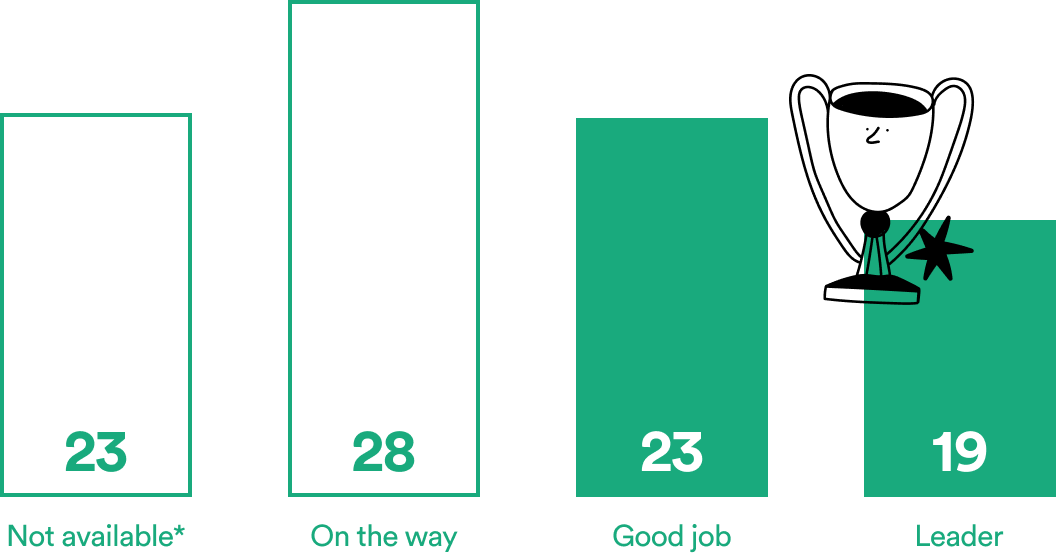 * 23 active brands from our offer have not filled in our questionnaire yet. During 2021 we managed to reduce the number from the original 38 and our goal is to have a completed questionnaire from everyone.
65% share of sustainable brands *
*In the F/W 21 season, we have invested 65% of our purchasing budget in certified sustainable brands that have earned our Sustainable Tag. This is an increase of 15 percentage points in one year. However, our plan was to reach 75%, which we unfortunately did not succeed in doing. The main reason was the situation related to the coronavirus pandemic.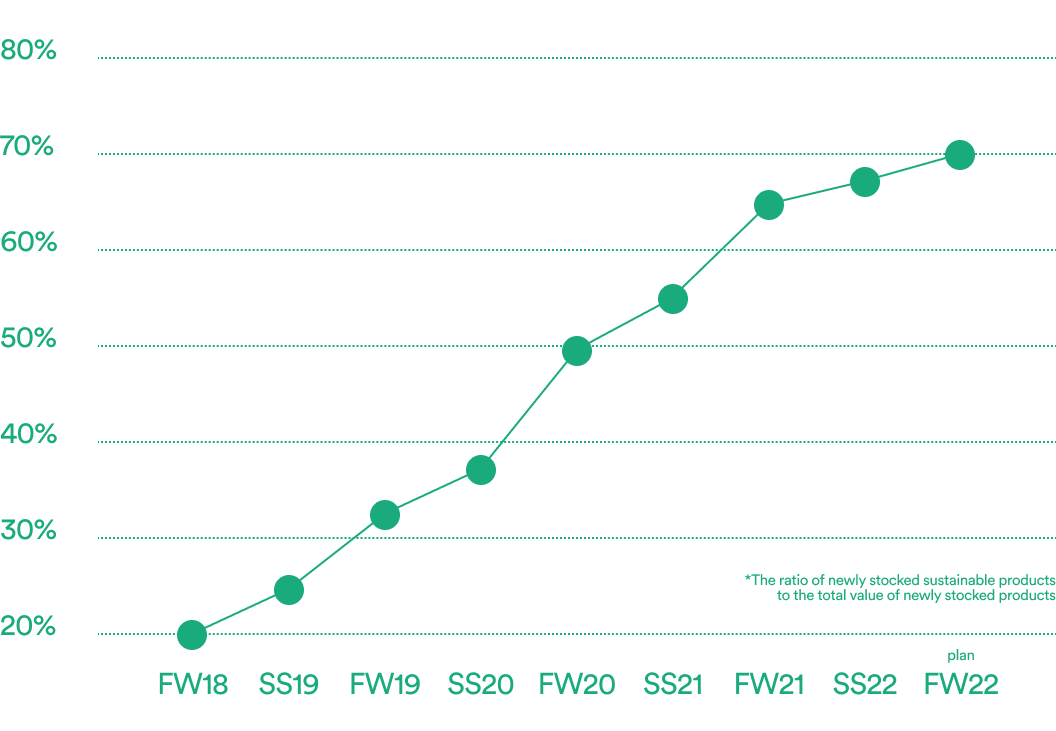 "During 2021 we have achieved a growth of the ratio of products from certified sustainable brands by 15 percentage points."
— Jakub Veselsky, Co-founder and CEO of Freshlabels
Since 2020, our customers have been offered the opportunity to have their shipment sent in reused packaging. We obtain the boxes both from the customers themselves and from partners from companies such as Pražské vodovody a kanalizace, a.s. – Veolia, Vodafone or Obživa.cz.
We are pleased that in the last months of 2021 we achieved our planned goal of sending over 50% of all shipments without the need to use newly produced packaging.
If necessary, we use old shredded cardboards as fillers instead of bubble wrap.
If the customer wants a new package, we use boxes and shipping bags made of the most recycled materials.
3. Paperless returns and claims
After replacing printed paper invoices with electronic ones in 2020, we ended up doing the same with our printed return forms in 2021. Therefore, you won't find any unnecessary paperwork, which often ends up in the trash, in our parcels,
At the same time, we also launched an easy online claims process.
We introduced Freshlabels Loop, our program of repurchasing products that customers bought from us in the past and no longer use, in December 2020. In the first phase, we wanted to offer customers the opportunity to return goods physically at our stores, but the development of a pandemic unfortunately made it impossible. In the spring of 2021, we've therefore launched Loop Online with preferential shipping of products through Zásilkovna.
As soon as the situation made it possible, we organized the historically first Loop Market in our Sustainable Store in Prague, where customers had the opportunity to purchase Freshlabels second-hand products.
The programme is only available in the Czech Republic at this point.
5. Climate neutral shipping
To ship to the German market, we have decided to switch to the DHL GoGreen climate-neutral transport service, which uses a higher share of energy from renewable sources and compensates for CO2 emissions through certified and transparent climate projects. We are working on expanding climate neutral shipping to other countries.
6. Heureka Sustainable Eshop
At the end of 2021, we were one of the first four e-shops on the Czech market to obtain a new Heureka certificate. The award was given to us based on our responsible approach to the environment and equal opportunities, which we offer to our colleagues regardless of gender, nationality, skin colour, faith, sexual orientation, or gender identity.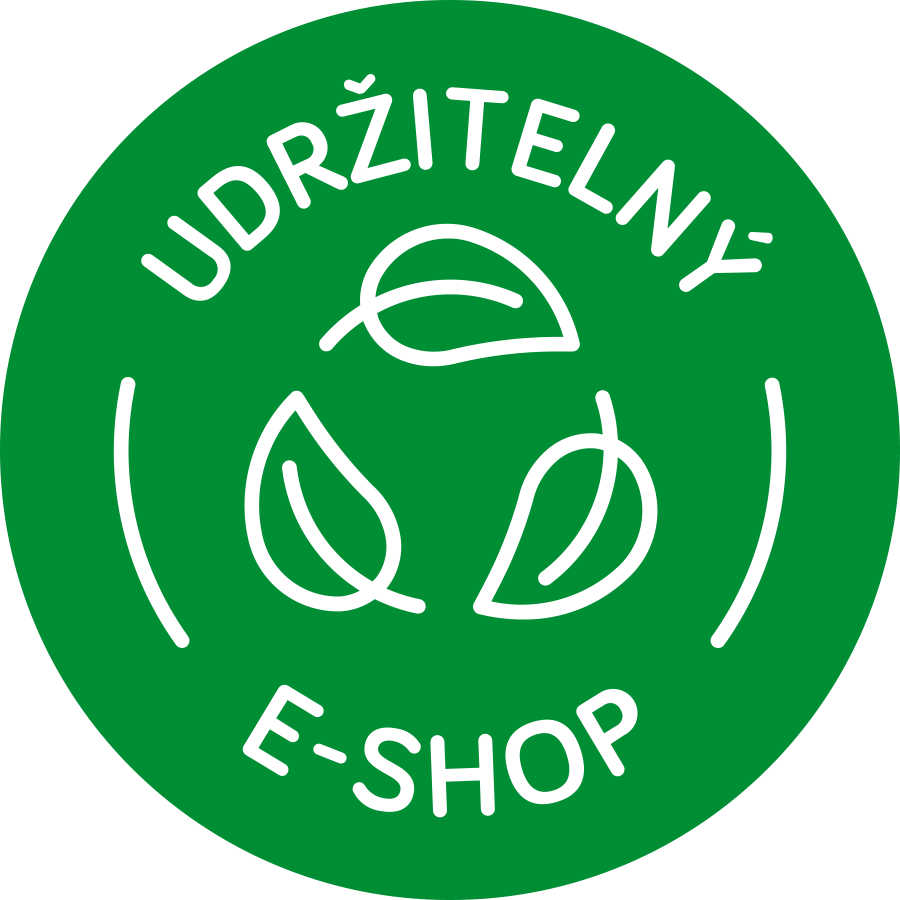 In addition to the already mentioned share of the sustainable offer, which increased significantly but did not reach the 75% we set as our goal, we were unable to present our own collection of sustainable products in 2021.

Warning: Invalid argument supplied for foreach() in /home/forge/discovermag.freshlabels.cz/wp-content/themes/freshlabels/template-parts/post/image_list.php on line 22

1.  Increase the number of shipments being sent in reused packaging to at least 70% by the end of 2022
|
2. Increase the share of products from brands certified with our Sustainable Tag to 70% for the A/W 2022 season
|
3. Start cooperating with NGOs
|
4. Introduce our own sustainable products.
|
5. Improve the presentation of sustainable products on our website
|
6. Launch complex educational content – Sustainable Academy
|
7. Replace our van with an electric one